123GO (For all SOLIDWORKS users)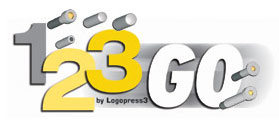 10 seconds !
To go from this :

To this :

Automatically patterned !
Fully dimensioned !
At part level !

123GO cuts holes and inserts fasteners over 10 times faster than any other method can do !

123GO is the fastest and easiest way to insert fasteners and their related holes and mates automatically.

123GO automatically inserts holes for you at the part level through standard SOLIDWORKS Hole Wizard Library features.
Do you want to speed up the design of your mechanical assemblies ?

123GO

is a very easy and affordable answer !

123GO

finishes the job in a fraction of the time you were spending, making you more productive.
Nothing easier than to modify your component and finally do a "delete component" to appreciate the true power of

123GO

.
In addition to the components shown in the picture below, Nuts, Locknuts, Washers and Split Washers are also included in 123GO.

123GO also includes a cool feature that allows inserting dozens of custom holes
FREE 123GO DOWNLOAD
" "I have found 123GO to be a real time saver when I add fasteners to a machine design. As an independent consultant I have found 123GO's method of storing the fasteners with the project to work very well for me. When I send the project folder to a customer I know everything will go along and my customer won't have any missing references."
"
Paul Terpstra, President, Innalytical Solutions Inc - USA