The strip layout module can be used for both progressive dies and transfer dies. It allows quickly modeling the true solid 3D strip in a very easy and logical way, resulting from our almost 20 years experience shared with passionate die designers.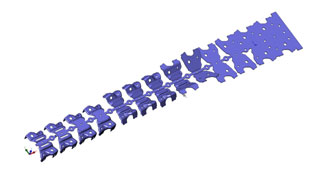 The Logopress3™ strip module can be started from a blank and a folding/stamping process that was first defined using the Logopress3™ Unbending and Flattening tools or from dumb imported data provided by your customers or partners.
Any kind of parts, even those with non-constant thickness, are able to be managed. It also allows managing multiple parts in one strip, whether they be identical, mirrored or completely different parts in the same strip.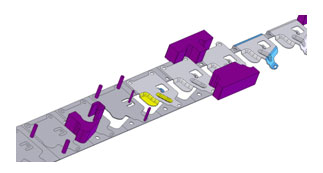 The Logopress3™ strip package is included inside the full die design package but can also be independently purchased if you don't need to design complete dies. In that case it also includes the flattening package and it's the perfect solution for your quotation needs.
Key functions :
Multiple part management
Nesting optimization
Excel spreadsheet including useful data for quoting
Drag and drop actions
Insert/delete stations
Material usage info
Force info
Global center of force computation
Local center of force computation
Spring back management
Associativity with the Unbending/Flattening process
OpenGL preview
Automatic creation of internal punches
Powerful assistant tool to define punches in the skeleton
Punch patterning