Logopress3™ Nesting
Logopress3™ NESTING is an affordable, fast and easy to use product that is fully integrated inside of SOLIDWORKS™. The user starts with either a multibody part file (created with SOLIDWORKS or imported from a different CAD system) or with individual part files that are in an assembly. After setting some logical parameters that allow extreme flexibility it will quickly nest the parts per the options that you set. No formal training is necessary.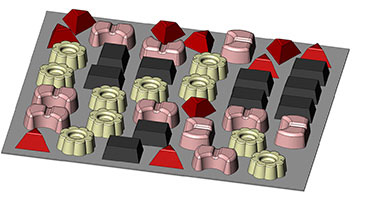 Logopress3™ NESTING helps widely
various industries and applications such as:
Sheet metal
Cloth, Textile Industry
Plastics, Adhesives
Aerospace
Leather (Shoes)
Composites,
Inflatable Objects
Food Industry
Packing, Packaging
Shipbuilding
Toys
Key functions :
Multiple nesting options and strategies included
Supports either multibody parts or parts within an assembly
Set sheet size to nest on or set only width
Angular control of parts
Option to nest into openings or not to
Option to allow parts to flip upside down
Flexibility in setting clearances between parts
Ability to set quantities for each individual part
Automatic report generation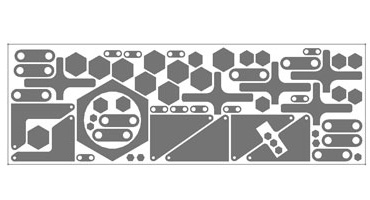 Logopress3™ NESTING is also included in the Logopress3™ Die Design and/or Logopress3™ Strip Layout software package.