ProgSim Option
User-Friendly Software for Incremental Forming Simulation of Progressive Dies Inside of SOLIDWORKS.
Logopress ProgSim performs accurate simulations of forming processes using incremental simulation technology powered by the industry proven AutoForm solver.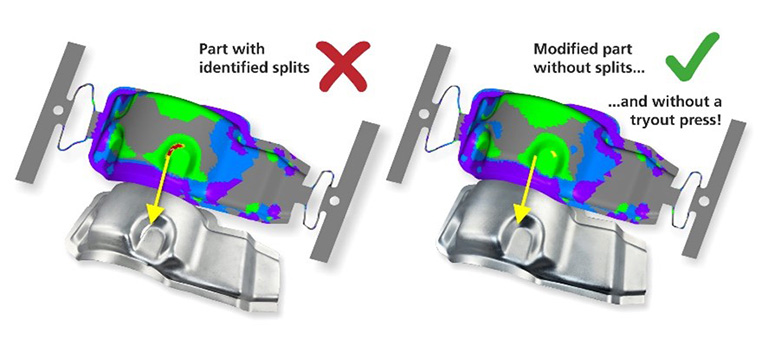 Logopress ProgSim will soon become as natural and indispensable for a die designer as a wire EDM machine has been to every company that builds dies.
Discover and address formability and springback issues during the strip layout/die design stage
Very affordable, easy to use, and highly accurate virtual tryout press, customized for small to medium sized stampings
Results provided for thinning, wrinkling, splitting, strain, etc.
Multiple ways of displaying accurate springback results
Minimize time in the tryout press and deliver dies faster
Without lowering the quality of the predictions or the simulation, Logopress ProgSim was developed and customized for companies that work with progressive dies for small to medium sized stampings, and who felt that they could not justify the cost of an incremental forming simulation software that does not have a size limitation on the parts that it can simulate.
SIMULATE, MODIFY, AND VALIDATE STRIP LAYOUTS ON YOUR COMPUTER SCREEN TO PREVENT COSTLY TIME IN THE TRYOUT PRESS AND SUBSEQUENT REWORK COSTS
---
LOGOPRESS PROGSIM PROVIDES EXTREMELY ACCURATE FORMING RESULTS – MUCH EARLIER AND CHEAPER THAN ONLY USING THE TRYOUT PRESS.